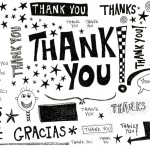 How many times a day do you say "thanks"? Is it a true expression of gratitude or an automatic response? "Thanks" is a good start but expressing gratitude—letting those around you truly understand that you appreciate what they are doing—is a key to effective leadership.
William James said "The deepest craving of human nature is the need to be appreciated." Letting people know you appreciate them shows you care and are giving credit where it's due. It evokes trust and loyalty, two important factors leading to business success. It also serves as a morale booster and motivator.
Expressing gratitude can be delivered in many ways—a quick email or text, a phone call, a personal note or card, and whenever possible, face-to-face. Whichever you choose, make sure it matches the act of kindness, assistance or work delivered.
Whether it's big or small, these guidelines will insure your next "thank you" is an effective expression of gratitude:
Keep it simple and sincere. The simple act of being thanked makes one feel more valued.
Look the recipient of your message in the eye when you express gratitude in person and address them by name. If the conversation is by phone or written (text, email, personal note) be sure to mention names as well.
Refer to the specific act of kindness, assistance or work the person or group provided. (Something they refrained from doing may warrant appreciation as well).
Let the individual or team know how their action impacted you personally, professionally or how it impacted your business.
Acknowledge the effort it took (i.e. "Thank you for taking time out of your weekend to . . ." or "I realize you went out of your way to. . . " or "Thanks for staying late to finish the. . .").
Timing is everything. Express gratitude at the right time. Sometimes it's best to express your gratitude on the spot. Other times, a personal note or visit after the fact may be more appropriate.
Smile! Whether face-to-face, over the phone or written, a smile comes through and verifies your expression of gratitude is genuine.
Start the year off "Communicating for Success." Make every "thank you" a true expression of gratitude.