Who would imagine 2 little letters could make such a difference?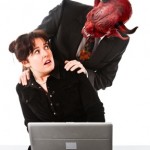 A few weeks ago I received 2 emails. One was offering new business owners the opportunity to gain visibility in a new online and print business magazine. The other was inviting me to the launch party for a new magazine with the same name. I opened the first email, clicked the link and checked out the advertising, featured business owners and comtemplated whether or not it would reach my target market. Next, I reviewed the launch party invitation, thinking what fun it would be have a new group to network with. Looked interesting, so I forwarded to my friend, asking her if she might want to go to the party and to check out the magazine at blahblahblah.com.
Within 5 minutes an email popped up with the subject "Are You Kidding???!!!"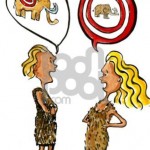 Not the usual subject line, I opened it immediately, curious what I must be kidding about. The site I had directed her to was "completely inappropriate and perhaps there was a side of me she didn't know about-had I actually looked at the site??" Indeed I had and proceeded to reopen the link I sent her…now this was not at all what had popped up the first time!! What happened to the professional headshots and enthusiastic offers of products and services from optimistic entrepreneurs? I closed it and tried again…same thing. I went back to the email with the invitation and clicked on the site…same thing. Had I been hallucinating??
I deleted everything, completely baffled.
A few days ago another email came from "the magazine". Curious, I opened it and clicked on the link to the site and waited with anticipation as the smiling faces of up and coming entrepreneurs appeared on the screen. Phew! Very carefully, I studied the link…
Two little letters made all the difference!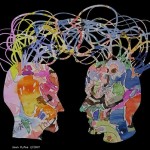 We all process massive amounts of information on a daily basis. Often answering emails or texting, talking on the phone, listening to music and eating at the same time. It is VERY easy to miss the details. Seemingly minor details can lead to major miscommunications.
Adopt these simple habits to insure "the devil in the details" doesn't get the best of you:
-Contrary to popular opinion, multi-tasking is not efficient. Focus on the task at hand until it is complete can result in up to 80% time savings.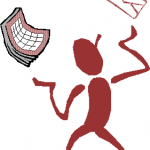 -Finish one task before moving to the next, stopping and starting is inefficient. According to a USAA study, the mind can only focus on one thing at a a time.
-Always check your work (sound familiar?).
-Use spellcheck.
-Let a document, letter, critical email, etc. sit for a few hours and come back to it with fresh eyes-amazing what you might catch.
-Take a break-get up and move around-long bouts in front of the computer or a project are not productive. Your mind and body need to be renergized about every 90 minutes (every 20-30 according to Jim Loehr and Tony Schwartz in their book "The Power of Full Engagement").
-Drink water-your  mind needs hydration to function at it's best.
"Small differences in your performance can lead to large differences in your results"-Brian Tracy, coach, author, speaker
How has "the devil in the details" impacted you!!! Please share your stories and the small differences you applied to make sure it wouldn't happen again.